Venezuela closes Colombian border to stop currency 'mafia'
Comments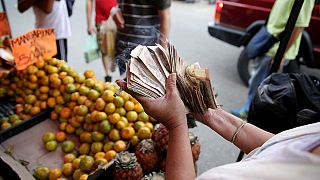 Venezuela has closed its border with Colombia for three days to try to stop smuggling gangs who are accused of causing economic turmoil.
The government in Caracas says they buy up subsidised goods in Venezuela and sell them at knockdown prices in Colombia.
President Maduro has ordered the withdrawal from circulation of the country's largest banknote – he says to stop gangs from hoarding the currency.
Billions of 100-bolivar notes were "in the hands of international mafia led from Colombia," the president said on Sunday.
His interior and justice minister also blamed outside influences.
"Through NGOs, US organisations plotted this financial coup to suffocate our country and create general unrest among our people, with an economic war," Nestor Reverol told a news conference.
Almost half of all Venezuela's currency is thought to be made up of the 100-Bolivar notes – an estimated six billion of them in total – which are each worth two US cents.
People can exchange them for coins and higher value bills but only at the Central Bank.
"It's crazy that from one day to the next, they want to take away this paper currency that is practically 80 percent of the cash that people use on the street," said Caracas resident Jonathan Gonzalez.
"It's illogical. This should come out step by step because there's also a new coin and that will devalue this note too much. We ordinary Venezuelan people are the ones who are affected by this," added Teolviz Salcedo, a motorbike taxi driver.
Many businesses don't accept the 100-bolivar notes but it's feared the poor will be hard put to do without them.
Venezuela is suffering from soaring inflation and recession which continue to cause severe hardship for millions of people.