Thousands flood streets as Poland marks 35th anniversary of martial law
Comments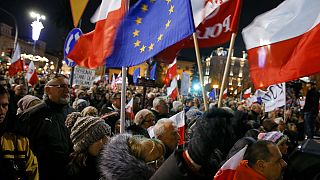 Thousands of Poles flooded the streets as the country remembered the 35th anniversary of the declaration of martial law by its former communist regime.
Speaking at Three Crosses square, leader of the 'Law and Justice' government Jaroslaw Kaczynski vowed to do everything possible "to ensure that justice is done" regarding the Martial law victims.
"We are gathered here today to remember," said the ruling party leader Jaroslaw Kaczynski. "I know it's important to look back but it's also important to look at the present. We have to fight for change and strive for a fairer country. I believe that we can achieve our goals and triumph. We intend to prosecute the people who killed our compatriots during martial law."
Thousands of anti-government protesters also took to the streets to protest against sweeping changes introduced by the 'Law and Justice' government.
Since the PiS party took power in November last year, its moves to take more control of the judiciary and the media have divided Poland as many suggest it is undermining democratic principles.
Thousands protest against Polish government on martial law's anniversary https://t.co/BZwXo6QKduReuters</a> <a href="https://twitter.com/hashtag/Poland?src=hash">#Poland</a> <a href="https://t.co/RUOiU17xlM">pic.twitter.com/RUOiU17xlM</a></p>&mdash; Marcin Goettig (marcingoettig) December 13, 2016