Jewish settlers demand support for Amona outpost
Comments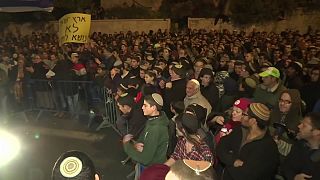 Several hundred Jewish settlers and supporters of an illegal outpost in the occupied West Bank have held a rally protesting against the Israel government's relocation plans.
The outpost called Amona has to be evacuated by December 25 according to the Israeli Supreme Court.
The fate of the outpost, where around 400 Israelis live has become a major issue in Israeli politics.
"If this right wing Likud government can't organise and make seder, make order in Judea and Samaria, where Jews have a right to live, then they have no right to actually govern this country," said one protester.
Amona is one of hundreds of unauthorised outposts in the West Bank, but has been left of a new government bill legalising around 4,000 other homes.
The government is seeking a loophole to resolve the issue but in the meantime Israel's top court says the residents must leave.
In the five decades since Israel captured the West Bank, it has built about 120 formal settlements on the territory. Most of the world deems them illegal and an obstacle to peace with the Palestinians, who aim to establish a state in the West Bank and Gaza Strip with East Jerusalem as its capital.
Amona became a symbol of settler defiance after the partial evacuation a decade ago sparked violent clashes between residents and allied activists on one side and security forces on the other.
https://t.co/BM9Fwf8JGIpurplhaze42</a> <a href="https://twitter.com/TanyaKasim">TanyaKasimMLKstudios</a> <a href="https://twitter.com/rk70534">rk70534 -Israel approves Amona residents' compensation as evacuation continues

— x Madenie x dan (@madeniexdan1) December 12, 2016