Battle for Aleppo: cries of desperation appear on social media
Comments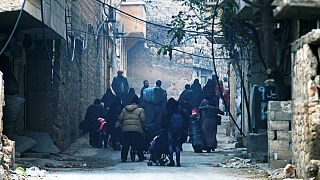 As the attacks by Syrian government forces have intensified on the last rebel-held area of Aleppo, cries of desperation have been published via social media in a series of videos and tweets.
The following are transcripts from videos recorded in English by opposition activists; they have been independently verified and are believed to be genuine.
"Really I hope you can do something for Aleppo people, for my daughter, for the other children. I don't know really what to say," said Abdulkafi Alhamdo, a teacher turned activist.
It is the doomsday inside Aleppo. Bombs bombs are over the head of civilians. people are running running but don't know where to go.

— Mr.Alhamdo (Mr_Alhamdo) December 12, 2016
"The civilians are stuck in a very small area that doesn't exceed two square kilometres. With no safe zone. No life. Every bomb is a massacre. Save Aleppo. Save humanity," was the appeal from Lina Shamy, in a video released on December 12.
"There is not a minute to spare. Please stand with Aleppo," said Salah Ashkar, an independent media activist living in the besieged part of Aleppo.
Bana Alabed has been posting tweets in English with the help of her mother, a teacher. Her account has thousands of followers. This was her last tweet on Monday.
My name is Bana, I'm 7 years old. I am talking to the world now live from East #Aleppo. This is my last moment to either live or die. – Bana

— Bana Alabed (@AlabedBana) December 13, 2016
the last massage. Thanks for everything. we shared many moments. The last tweets were from an emotiomal father. Farewell, #Aleppo

— Mr.Alhamdo (Mr_Alhamdo) December 12, 2016
A few days ago the White Helmets rescue group appealed to international organisations to protect its volunteers, warning that they might face torture and execution.
Along with this recent tweet it also said "humanity will always prevail and defy dictatorship".
There is no total number of casualties in Besieged #Aleppo today, all streets & destroyed buildings are full with dead bodies. It's hell.

— The White Helmets (@SyriaCivilDef) December 13, 2016
US journalist Bilal Abdul Kareem, who has been reporting from Aleppo, sent this message, thanking those who supported him, and criticising leaders such as Turkey's President Erdogan for their lack of action:
Perhaps my final message from E. Aleppo. Regime forces are closing in and bunker busters are raining down. pic.twitter.com/XgK0DSa08x

— Bilal Abdul Kareem (@BilalKareem) December 12, 2016
Another journalist, Janine di Giovanni, tweeted that she felt "like a failure", and asserts that war crimes have been committed in Aleppo:
Today I feel like a failure. Nearly 25 years reporting war crimes has added up to nothing. We said "never again." What happened? #Aleppo

— Janine di Giovanni (@janinedigi) December 13, 2016
Sophie McNeill, an Australian journalist, was another to lament to the lack of international action in Aleppo, tweeting images of injured children and babies:
Despite the UN resolution, nothing has changed in East #Aleppo…
The latest photos this morning #Syriapic.twitter.com/85ZS8zlDhB

— Sophie McNeill (@Sophiemcneill) December 10, 2016