Christine Lagarde vows to fight allegations of negligence at Paris trial
Comments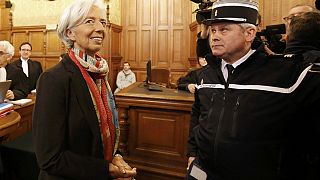 IMF chief Christine Lagarde vowed to fight "allegation by allegation" on the first day of her trial in Paris where she is being accused of negligence in allowing the misuse of public funds.
The charges date back to when she was the finance minister of the then-President Nicolas Sarkozy.
She approved an out-of-court settlement with businessmen Bernard Tapie to end a long-running dispute between the magnate and the French state.
Tapie case
In the early 1990s, Bernard Tapie was a majority shareholder in sports goods company Adidas.
After launching a political career and becoming a cabinet minister in Francois Mitterrand's Socialist government in 1992, Tapie had to sell the company.
In 1993, he sued Credit Lyonnais, a state-owned bank that handled the sale, alleging that the bank had defrauded him by deliberately undervaluing the firm.
Bad decision?
Lagarde decided to accept an extremely rare private arbitration process which ended up costing French taxpayers more than 400 million euros in a payout to Tapie.
Today at the special court where the Lagarde case is being heard, its has been claimed that Lagarde entered into a "badly prepared, ill framed and unwelcome decision to go to arbitration" in the long-running Tapie case in defiance of official advice.
Her lawyer Patrick Maisonneuve is questioning the very basis of her trial.
"So how can the court say within a few days that there has been embezzlement of public money when it's an element in other numerous and complex investigations? That doesn't seem reasonable to me."
Christine Lagarde plays political novice at trial https://t.co/dr9SRJTTVY

— Financial Times (@FT) December 12, 2016
One of those cases involves her former ministerial chief of staff. Lagarde claims she was not given all the information by Stéphane Richard who is under investigation for "organised fraud and misuse of public funds". He has been accused of not showing Lagarde "essential" documents from a state committee that advised against sending the case to private arbitration. He denies wrongdoing.
Lagarde has given up her immunity to she can personally face the court which is made up of three judges and several lawmakers.
She risks up to a year in jail and a fine of 15,000 euros if convicted.
Anybody following Christine Lagarde's trial this week should know that it's a pretty odd court: of 15 members, 12 are politicians, 3 judges

— Sophie Pedder (@PedderSophie) December 12, 2016