IMF' Lagarde to stand trial over 400 million euro state payout
Comments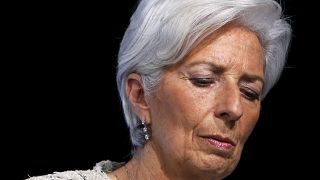 France's highest appeals court has ruled that Christine Lagarde, the head of the International Monetary Fund, must stand trial for her role in a 400 million euro state payout to Bernard Tapie, a French businessman.
It overturned the decision of a lower court.
She is accused of negligence by improperly approving an out-of-court arbitration between Tapie and the state. The arbitration judges ruled in Tapie's favour. He is a supporter of conservative former president Nicolas Sarkozy.
A separate process is under way to try to force the businessman to reimburse the money. He has appealed against a court order that he pay it back.
He sued for compensation after selling his stake in the sports company Adidas to the state controlled Credit Lyonnais bank in 1993 which then sold it on at a profit.
A lawyer for Lagarde, who was French finance minister at the time of the payout in 2008, expressed regret over the court ruling but said the trial would establish she had done nothing wrong.
The IMF has indicated its continued support of Lagarde during the legal process. Despite the case looming over her, Lagarde was appointed in January for a second five-year term as managing director of the International Monetary Fund.
High flyer
Lagarde has had a high-flying career, first as a top corporate lawyer in the United States, then as a cabinet minister and most recently as managing director at the IMF.
At the Fund, she has won praise for persuading the US Congress to approve a landmark reform programme that shifted more voting power to China and other key emerging market countries and has generally been considered a skilful negotiator.
As France's finance minister from 2007 to 2011 Lagarde played a key role in Europe's response to the global financial crisis.
She joined the international law firm Baker & McKenzie in Paris aged 25 after completing a master's degree in English and labour law, and quickly rose to the top of the Chicago-based firm before entering politics.
Born in Paris and raised in the northern port city of Le Havre, Lagarde is a vocal proponent of women as senior executives, once saying dryly that if Lehman Brothers had been Lehman Sisters, it might have survived.