IMF chief Lagarde 'confident' ahead of negligence trial in France
Comments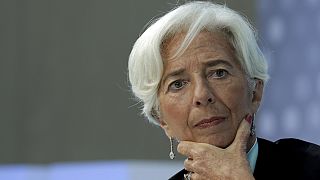 The head of the International Monetary Fund stands trial in France on Monday accused of negligence leading to a misuse of public funds when she was the country's finance minister.
If convicted, Christine Lagarde could face up to a year in jail and a fine of 15,000 euros. A guilty verdict would also risk plunging the IMF into a leadership crisis.
On Sunday she said she was confident she had done nothing wrong.
The court in Paris will seek to determine her role in a 400 million euro payment to French businessman Bernard Tapie in an out-of-court settlement.
He had sued the French state, claiming a nationalised bank had defrauded him after he sold his stake in a sports company in the 1990s.
Arbitration judges backed him but appeals courts have since overturned the settlement in his favour.
Lagarde rejects suggestions that she acted on the orders of the then president Nicolas Sarkozy.or had otherwise favoured the businessmen.
The special court hearing the case tries ministers for crimes in office and meets only very rarely.