Watch: horrific attack on the Berlin metro
Comments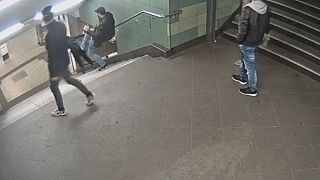 Warning: graphic details
Shocking footage has emerged of the moment a thug kicked a woman in the back as she walked down the stairs in a metro station in Berlin.
The woman was kicked down the stairs at a metro station in Berlin in a seemingly-motiveless attack.
The attack was filmed on a CCTV camera. It has triggered feelings of indignation nationwide.
The 26-year-old victim plunges down the stairs, before being helped up by passers-by. She had to be treated in a hospital but was not kept in.
The perpetrator and his three companions simply moved on.
Police are still investigating the incident that took place on October 27 shortly after midnight.
Officers finally released the video on Thursday 8th of December to generate leads from the public.