Greek parliament approves 'final exit' budget
Comments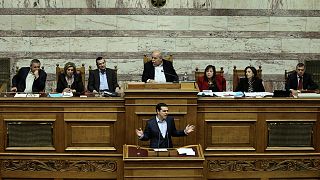 It is billed as Greece's "final exit" from its almost decade-long financial crisis.
The country's parliament has passed a budget of continued austerity, as mandated by creditors, but it also forecasts robust growth for next year.
The budget adds more than a billion euros in new taxes, mostly indirect taxes on items from phone calls to alcohol. It also cuts spending by the same.
"We're moving towards the third consecutive year in which the government will achieve its goals," Greek Prime Minister Alexis Tsipras told parliament.
"The goal of a surplus of 1.75 percent of GDP, which is part of the financial assistance agreement for 2017, is expected to be overachieved as well. The primary surplus is expected to reach two percent."
The budget was backed by the left-dominated ruling coalition and opposed by all other parties, passing by a vote of 152 to 146.
Euronews' Stamatis Giannisis reported from Athens: "The coalition government of Alexis Tsipras had a quiet evening in parliament as it got its 2017 budget through with a comfortable majority.
"The problems it has to resolve though remain as difficult as ever, since the continuing austerity is causing a strong reaction from many professional and social groups, who, year by year, experience further reductions in their incomes."