'Toni Erdmann' sweeps board at European Film Awards
Comments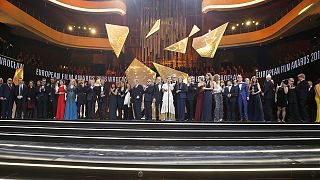 A German-Austrian comedy drama has swept the board at this year's European Film Awards.
"Toni Erdmann" – based around a father-daughter relationship – picked up five gongs at the ceremony in the Polish city of Wroclaw.
They include best European film and best director.
"In this movie, the main character Winfried (the father) puts on a show because he is very desperate. Well, I would say in the movie the two genres – drama and comedy – are present at the same time," explained the winning director, Maren Ade.
The man who played Winfried, Peter Simonischek, came away with the prize for best European actor.
"Great film director, great script. I mean we received five awards, this can't be a coincidence," he told Euronews.
"Toni Erdmann" also scooped the best actress accolade – going to Sandra Huller.
"I think we always tried to take the characters seriously – instead of making fun of them we portray them with all their struggles, trials and failures," she commented.
Euronews' Wolfgang Spindler reported from Wroclaw: "A big surprise at this years European Film Award ceremony – five accolades in the main categories going to a movie made by a female film director, that never happened before in the history of these awards."
And finally, the award for European Film 2016 goes to ToniErdmannFilm</a> by Maren Ade! <a href="https://twitter.com/hashtag/efa2016?src=hash">#efa2016</a> <a href="https://t.co/bw4LJNTYtV">pic.twitter.com/bw4LJNTYtV</a></p>&mdash; European Film Awards (EuroFilmAwards) 10 décembre 2016
For the full list of winners, click here.