Gambian president rejects election result
Comments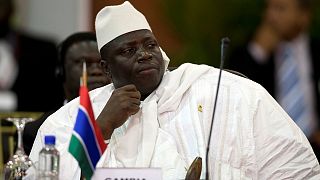 Having conceded defeat, the Gambian president now says that he rejects the outcome of this month's election that he lost to opposition leader Adama Barrow.
Yahya Jammeh, who has been in power for 22 years, is calling for a fresh poll.
Official results gave Barrow, a real estate developer who once worked as a security guard in London, a winning 45.5 percent of the vote.
The unexpected outcome had been viewed as a moment of democratic hope.
To my successor, congratulations-may today mark the beginning of your 20 year reign #GambiaDecides

— Yahya Jammeh (@YayhaJammeh) 2 December 2016
"In the same way that I accepted faithfully the results believing that the IEC (Independent Electoral Commission) was independent and honest and reliable, I hereby reject the results in totality," said Jammeh.
The challenge from Jammeh is an unexpected and major challenge for the West African country's incoming administration, which was already grappling with how to take control.
The US has condemned the move, saying it is an unacceptable breach of faith and an attempt to remain in power illegitimately.
Jammeh's government has been accused of detaining, torturing and killing opponents. His defeat sparked celebrations, but some had doubted that he would accept defeat.
Barrow had been expected to take over in late January following a transition period.
In extremely worrying move Gambian President Jammeh has now rejected result of election.Our Gambian friends & colleagues need our solidarity

— John McDonnell MP (@johnmcdonnellMP) 9 December 2016