Four dead as Bulgaria train derails and explodes
Comments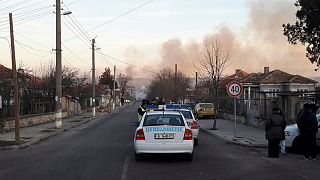 At least four people have been killed and another 25 injured after a freight train derailed and exploded in northeastern Bulgaria.
The incident took place in the small town of Hitrino.
Many victims are reportedly being treated in hospital for burns after two of the train's tanks, which contained flammable chemicals, blew up after hitting electricity cables.
Authorities have ordered an evacuation while 150 firefighters tackle the massive blaze.
20 buildings are said to have been seriously damaged following the incident.