Exxon Mobil chief to become America's top diplomat?
Comments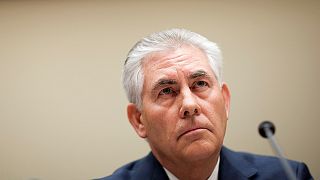 There is mounting speculation that America's president-elect Donald Trump will name the chief executive of Exxon Mobil as the country's top diplomat.
Rex Tillerson – who, in 2013, was awarded Russia's Order of Friendship by Vladimir Putin – apparently met Trump on Saturday morning.
At Exxon Mobil, he oversees operations in more than 50 countries, including Russia.
Trump has spoken of wanting warmer relations with Moscow, which has sparked concerns in Congress that he could lift or loosen some of the sanctions imposed over Crimea.
It comes amid conclusions from intelligence analysts that Russia intervened in the election to help Trump win the White House.
It's reported that agencies have identified individuals – with links to the Russian government – who provided thousands of hacked emails from the Democratic National Committee and others, to Wikileaks.
A statement from Trump's transition office has not addressed the analysts' conclusions.
But it did attack the intelligence community, saying they were the same people who said Saddam Hussein had weapons of mass destruction.