South Korea: the woman at the heart of President Park's impeachment
Comments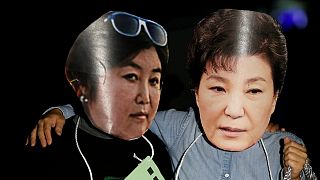 Choi Soon-sil is the woman at the heart of the political scandal that has rocked South Korea and ensnared Park Geun-hye.
A close confidante, friend and former aide to the president, Choi is accused of coercing the country's biggest business groups to funnel around 65 million euros into two foundations that she controlled. She is currently in jail, awaiting trial.
Prosecutors say President Park was an accomplice in the alleged corruption.
Last month a tearful Park, apologised to the nation, admitting she'd been careless and ''allowed her guard to drop'' with Choi. However, she has strongly denied any wrong-doing and has dismissed some of the more lurid allegations that Choi held shamanistic rituals inside the Blue House, the presidential office.
Friday's impeachment vote follows weeks of mass protests in South Korea, with the capital Seoul in particular seeing huge candle-lit demonstrations.