More than 1000 Russian athletes benefited from state-sponsored doping - report
Comments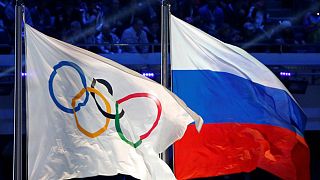 More than 1,000 Russian athletes, including Olympic medallists, are implicated in the McLaren report on Russian state-sponsored doping.
The report commissioned by the World Anti-Doping Agency (WADA) says that athletes competing in summer, winter, and paralympic sports were either involved directly, or gained an advantage from a state-sponsored doping programme, dating back to 2011.
The author of the report, the Canadian sports lawyer Professor Richard McLaren, said that the "medal-winning conspiracy" continued after the Sochi Winter Olympics in 2014.
This is the second part of a report giving more details of an elaborate state-sponsored doping scheme operated by Russia, first revealed in July.
London Olympics 'corrupted'
More than 30 sports were involved, the report says, in concealing positive doping samples. It claims there was a systematic cover-up, which was refined at the 2012 Olympics in London, as well as the 2013 World Athletics Championships and 2014 Sochi Winter Olympics.
Professor McLaren said there was evidence that more than 500 positive results were reported as negative, including well-known and top-level athletes whose positive results were automatically falsified.
No Russian athlete tested positive at the London Olympics, where Russia won dozens of medals.
"The Russian team corrupted the London Games on an unprecedented scale," McLaren said.
"The evidence does not depend on verbal testimony from anyone to draw a conclusion. Rather it tests the physical evidence and the conclusion is drawn from the results. The results of the forensic and laboratory analysis initiated by the IP (Independent Person report) establish that the conspiracy was perpetrated from at least 2011 to 2015," the lawyer told a news conference in London.
WADA Statement regarding conclusion of McLaren Investigation: https://t.co/7OLa9MBXkq

—

WADA

(@wada_ama) December 9, 2016
The author said there was evidence that more than 500 positive tests were reported as negative including from top-level athletes.
A Moscow laboratory was involved in a urine swapping system used at the Sochi Winter Olympics, the report says. There was proof of bottle tampering and some athletes with impossible test results, it adds.
The first part of the report in July found Moscow had concealed hundred of positive doping tests in many sports and led to a partial ban of Russian athletes competing in the Rio Olympics this year.
However the International Olympic Committee rejected a blanket ban and let individual international sports federations decide which athletes should be allowed to compete.
'Nothing new'
Russian officials have dismissed the latest report. Responding a few hours after its launch, the Russian Sports Ministry denied the existence of a state doping programme.
#BREAKING Russian sports ministry denies any state-run doping programme

—

AFP

news agency (@AFP) December 9, 2016
"We didn't hear anything new. Unfounded accusations against us all. If you're Russian, you are demonised," said Duma MP and Russian Curling Federation President Dmitry Svishchev, as quoted in Russian reports.
'Just what we expected' – Russian Curling Federation president on McLaren report https://t.co/3CFKJfO5Zz

— RT Sport (@rtsportnews) December 9, 2016