Italy's president starts talks to resolve political turmoil
Comments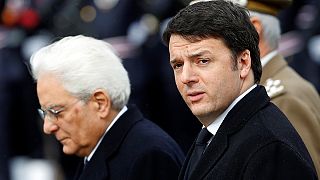 Italy's president has begun talks with political leaders to find a quick resolution to the political crisis unfolding in the country following the resignation of prime minister Matteo Renzi.
President Mattarella must decide whether the country will run with an interim government until scheduled elections in 2018, or if a poll should take place as early as Spring.
He held talks with the leaders of both houses of parliament, though neither commented on the status of negotiations. A decision is expected by Monday.
At a speech to his Democratic Party on Wednesday, Renzi said he would only join a government committed to elections in 2018 if it was backed by parliament, something which many parties have ruled out.
If the timetable is accelerated to early next year, it could favour anti-establishment parties whose growing popularity pose a threat to Italy's membership of the euro zone.