Bombs and diplomacy: Syrian forces push into eastern Aleppo as UN calls for an end to hostilities
Comments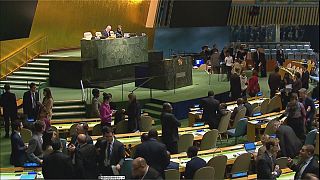 The Syrian army is tightening its siege on rebel-held parts of Aleppo. Ground fighting and air strikes intensified as civilians try to flee.
Regime forces backed by Russia have recaptured 32 out of 40 neighbourhoods in the east of the city, according to a military source.
The operation to retake Aleppo would bring victory closer for President Bashar al-Assad.
Meanwhile the push for a political solution to the conflict continues. In New York the UN adopted a non-binding resolution calling for an end to the fighting.
Moscow and Washington have discussed a ceasefire to allow civilians to escape and aid to enter Aleppo. The US Secretary of State said a meeting would be held in Geneva on Saturday to move the process forward.