General strike as Greece braces for more austerity
Comments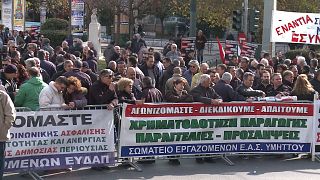 Greece ground to a halt on Thursday amid a general strike in protest at planned labour reforms and painful austerity cuts demanded by its EU and IMF lenders.
People have no money to pay more taxes
Public and private sector workers joined the 24-hour nationwide walkout, wary of what is to come in next year's budget.
Passenger ships remained docked at ports, city transport was disrupted and local administration offices shut down.
Thousands marched in Athens where parliament is debating more tax rises and spending cuts in the 2017 budget, with a vote expected on Saturday.
Many don't think they can take any more belt-tightening. Greeks have lost almost a third of their income since the crisis began in 2009.
"There is depression in almost every family," one woman told Euronews.
"There are huge difficulties not only economically but in the social sphere as well."
Strikes, anti-austerity rallies held across Greece https://t.co/8jgGV9OqMWpic.twitter.com/qXGnMmPdp6

— Kathimerini English (@ekathimerini) 8 décembre 2016
"Our pensions have been cut by at least 40 percent," an elderly man told us.
"People have no money to pay more taxes. They have worked hard and paid a lot in social security contributions. It was all taken from them in advance."
Greece signed up to more reforms as part of its latest international bailout last year.
Our correspondent in Athens, Stamatis Giannisis, said:
"The possibility of a revision of the deal between the government and Greece's lenders, that is likely to lead to more austerity, has alarmed trade unions. And, fearing further reductions in wages and pensions, they are intensifying their protests."