US honours Pearl Harbor victims - 75 years on
Comments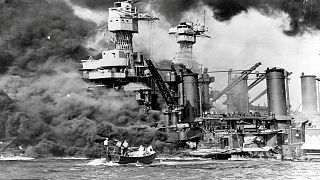 December 7, 1941, was a date that President Franklin Roosevelt said "will live in infamy".
I don't know how I made it but I'm here

Pearl Harbor survivor
The shock and horror of Japan's attack on Pearl Harbor catapulted the United States into World War Two.
This Wednesday. exactly 75 years on, ceremonies at the naval base in Hawaii are honouring the 2,390 American lives lost and the US military veterans who survived.
"The fireball got us all," explained Donald Stratton, 94, who said he was with a group of sailors who had to tie a rope between two ships and make their way across to escape, despite being so badly burned that he no longer has fingerprints.
"We got a hold of a sailor on board the vessel and he threw us a heaving line, which is a heavy line with a weight on it. And he tied the heavier line on and we pulled that across and proceeded to go hand over hand across to the vessel, 70 or 80 feet. I don't know how I made it but I'm here."
Seventy-five years ago this week, Japan surprised the world with a sneak attack on Pearl Harbor. #PearlHarbor75#HonorThempic.twitter.com/wmYFnpfYK9

— U.S. Dept of Defense (@DeptofDefense) 7 décembre 2016
The 90-minute raid also left 1,178 people wounded, sank or heavily damaged a dozen US warships and destroyed 323 aircraft, badly crippling the Pacific fleet.
The United States declared war on Japan the next day.
#USNavy Sailor on why he planned #PearlHarbor75 visit for 5 years. He's holding 2010 commemoration document signed by #PearlHarbor survivors pic.twitter.com/jmx2718wb9

— U.S. Navy (@USNavy) 5 décembre 2016
Louis Conter, 95, said he initially helped retrieve bodies and victims from the burning wreckage and then spent days trying to put out the blaze.
"We stayed on after and pulled bodies and people off the fire," he remembered.
"After about 40 minutes, we were getting water on the quarterdeck up to our knees," he said, explaining that somebody then cried 'abandon ship'.
"So we took what bodies we had and what people we had and put them in the motor launches and we got them to the hospital."
Nearly half of those who perished at Pearl Harbor were sailors aboard the battleship USS Arizona, which Japanese torpedo bombers sank early in the attack, sending 1,177 of its 1,400-member crew to their deaths.
#MondayMotivation: Aloha from the USS Arizona Memorial at #PearlHarbor75. #HonorThePast to #InspireTheFuturepic.twitter.com/x3W621e9w0

— U.S. Navy (@USNavy) 5 décembre 2016
Later this month, Prime Minister Shinzo Abe will become the first Japanese leader to visit Pearl Harbor. He will be joined by Barack Obama – the first serving US president to visit Hiroshima in Japan where the United States dropped an atomic bomb in the closing days of the war.
#SecDef on progress made with Japan since #PearlHarbor: out of depths of WWII, our nations have forged a common bond based on shared values pic.twitter.com/v0Z6O9Edka

— U.S. Dept of Defense (@DeptofDefense) 7 décembre 2016