Violence erupts again in Athens on anniversary of student murder by police
Comments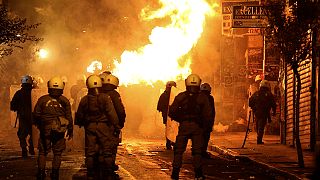 Demonstrations in Athens to mark the eighth anniversary of the death of a teenage boy at the hands of Greek police turned violent on Tuesday night.
The district where Alexis Grigoropoulos was murdered was turned again into a battlefield

Euronews correspondent
Around 30 people were detained or arrested, after hundreds had turned out in memory of Alexis Grigoropoulos, who was 15 when he was shot dead by police in 2008.
The officer who killed him was sentenced to life in prison after being found guilty of culpable homicide.
The march in the boy's memory – and the trouble – have become an annual ritual as students and anti-establishment protesters clash with security forces.
At first it was peaceful: 3,000 police officers had been deployed in the Greek capital.
But then as protesters threw stones, fireworks, petrol bombs and set fire to cars, police responded with tear gas.
All this happened against a backdrop of a struggling economy – Greece is in its eighth year of recession – and ongoing high unemployment.
Euronews correspondent Μichalis Arampatzoglou reported from the scene:
"Exarcheia, the district where Alexis Grigoropoulos was murdered, was turned again into a battlefield. Security forces had forbidden the protesters from gaining access to the university and the clashes took place in streets nearby."