Nimrud: drone footage shows ISIL destruction of Iraqi ancient city
Comments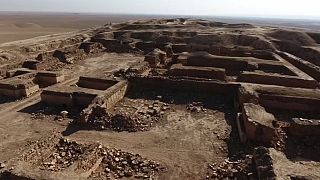 Drone footage taken over the ancient northern Iraqi site of Nimrud has been released showing the extent of the damage suffered at the hands of ISIL.
It's estimated up to 70 percent of the city may have been destroyed. Until it was overrun by the extremists in 2015, locals living near Nimrud had guarded the ruins.
Khaled Gabry, a local resident, said:"With the collapse of Saddam's regime and the intervention of the United States, Iraq was left with no government. So we decided to call the tribal people to protect the relics. We sent people to set up check points and patrol the area."
Built in the 13th century B.C and lying some 30 kilometres south of Mosul, before it was reduced to rubble Nimrud was praised as an Assyrian treasure.
The UN's cultural body has described the destruction as an act of war.
"We don't know exactly how many relics the extremists have taken away, but we know they took some portable and easy-to-smuggle cultural artefacts," Gabry added.
ISIL announced its intention to destroy Nimrud after its capture. The group says shrines and statues are ''false idols'' that must be smashed.