Flash floods kill one woman and bring chaos to southern Spain
Comments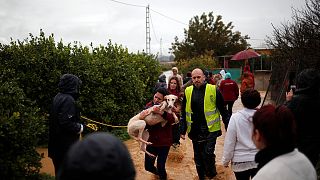 Severe flash flooding in southern Spain has has left one woman dead and forced authorities to issue a ''red alert'', the country's highest public safety warning.
Around 100 cubic metres of rain are estimated to have fallen within 28 hours.
The 26-year old victim is said to have been in the basement of a nightclub during the deluge.
A friend of the dead woman said: "She called me in the morning, the floods took her by surprise, she might have been asleep or something, and she didn't realise what was happening until it was too late. She told me everything was flooded, I told her to go out and she said she wasn't able to."
The flooding is reported to have brought widespread chaos to Malaga and other parts of the Costa Del Sol, with numerous accounts of drivers abandoning vehicles.
The local government said more than 600 emergency incidents were reported over the weekend.