First crash victims leave hospital while surviving Chapecoense players said to be stable
Comments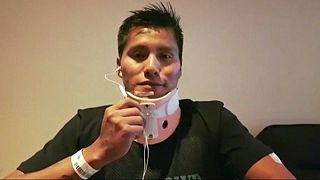 Days after the plane crash in Colombia that killed 19 of their team mates, the three surviving members of the Brazilian Chapecoense football team are in a stable condition in hospital.
Further good news came to light when it emerged that crew member Erwin Tumiri had been discharged from hospital and was on his way home.
The 25-year-old, who along with his colleague Ximena Suarez managed to escape the crash with bruises, expressed his gratitude to the people of Colombia, and those who came to their aid when the plane went down.
There were concerns for goalkeeper Jackson Follmann, who was put on a mechanical ventilator on arrival at hospital, and underwent surgery to amputate his leg.
Doctors said he was at last stable, conscious and able to breath on his own.
Dr Ferney Alexander Rodriguez of the San Vicente Fundacion Hospital in Medellin, Colombia, told reporters that the player, who was was admitted on Tuesday at dawn, is recovering satisfactorily.
"Today thanks to his satisfactory progress we were able to take him off his respirator and he no longer needs it to breathe," he said.
He also confirmed that the three other survivors are all stable and still receiving care in hospital.
Defender Helio Neto suffered severe trauma to his skull, thorax and lungs while his team mate Alan Ruschel underwent spinal surgery.
Journalist Rafael Valmorbida was treated for multiple rib fractures and a collapsed lung.
The crash in November sent shock waves around the world.
Brazil announced three days of mourning in the aftermath of the disaster which claimed 71 lives.