UN's Ban-ki Moon apologizes for Haiti cholera epidemic
Comments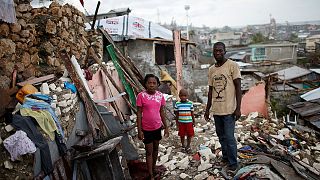 United Nations Secretary-General Ban-ki Moon has profoundly apologized for the world body's role in the Island nation's cholera outbreak, saying he "deeply regrets" the suffering and loss of life.
Haiti was free of cholera until 2010, when Nepali UN peacekeepers dumped contaminated sewage into a river.
Since then, over 9,000 Haitians have died of the disease and a further 800,000 have been infected.
Peacekeepers from Nepal – where cholera is endemic – were brought to the island nation as part of a force established following the 2004 armed rebellion which ousted President Jean-Bertrand Aristide.
The force size increased significantly after the country's 2010 earthquake.
Cholera is a waterborne disease that causes uncontrollable vomiting and diarrhea.