President Hollande will not seek re-election after one term in office
Comments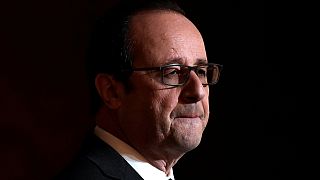 President Francois Hollande of France has announced that he will not be seeking a second term in office.
The incumbent leader said that he is aware of the "risk" that standing again would entail and that his only concern was "the superior interest of this country".
Surprise! #French President #Hollande will not seek a 2nd term. #Socialist couldn't be elected! World leader change https://t.co/B8TZ1v268jpic.twitter.com/eZngDzLBuS

— Michael Harris (@michaelharrisdr) 1 December 2016
Hollande – who became the least popular French president on record when his satisfaction rating recently dropped to as low as four percent – delivered an emotional televised address to the nation, saying: "Today I am aware of the risks that going down a route that would not gather sufficient support would entail, so I have decided not to be a candidate in the presidential election."
The decision paves the way for a bitter Socialist primary in January, with former Economy Ministers Emmanuel Macron and Arnaud Montebourg having already announced their candidacy.
Prime Minister Manuel Valls is also widely expected to run.
Whoever is on the Socialist ticket will face strong competition from right-wing parties in May's presidential election.
Polls have consistently shown the Fronte Nationale's Marine le Pen and Francois Fillon of the Republican party as favourites to make the final round.
Hollande is the first president of France since the Second World War not to attempt to ru for re-election.