Ukraine missile tests avoid Crimea airspace and Russian showdown
Comments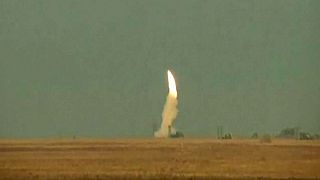 Ukraine began two days of missile tests on Thursday, avoiding the air space over Crimea which could have provoked a confrontation with Russia.
Kyiv insists the tests of medium range surface-to-air missiles, in the southern Kherson region bordering the territory annexed by Moscow in 2014, conform to international law. it says the aim of the tests is to bolster its defence capabilities.
Ukrainian military official Volodymyr Kryzhanovsky said the exercises were taking place at least 30 kilometres from Crimea's air space.
Russia's federal aviation agency Rosaviatsia said on Thursday that it had received new coordinates for the tests that meant the "danger zone reserved for missile launches does not now affect the air space over Russian territorial waters".
News of the tests had angered the Kremlin, which initially put its forces on alert and manoeuvred warships in the Black Sea. Russia threatened to destroy the missiles, before accepting that the launch operations had moved further away.