'Cultivated' mafia boss is arrested in southern Italy
Comments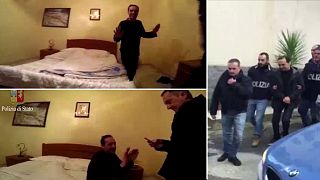 A fugitive mafia boss with an apparent liking for high-brow literature was captured in southern Italy on Thursday after six years on the run.
But there was no resistance and even the odd smile as Marcello Pesce was arrested in a pre-dawn raid on a house where he had been hiding out in the Calabrian town of Rosarno.
Pesce is accused of leading a clan of the ruthless 'Ndrangheta syndicate.
But he is also described as a cultivated man and books by the likes of Jean-Paul Sartre and Marcel Proust were found in the residence.
Fugitive 'Ndrangheta boss Pesce captured - Top mobster nabbed in Rosarno https://t.co/ibl5gWGKwr

— Ansa English News (@ansa_english) 1 décembre 2016
A father and son staying there were also reportedly detained.
Sought by police since 2010, Pesce was sentenced in absentia to 16 years in jail for mafia association.
Investigators say the Calabrian mafia has become Italy's most powerful and wealthy organised crime group thanks to its role as one of Europe's biggest importers of South American cocaine.
"It is difficult to make Americans comprehend the importance of the 'Ndrangheta mafia. They can't even pronounce it" https://t.co/5iflKqGT82pic.twitter.com/ymAQaPwGXw

— The Economist (@TheEconomist) 1 décembre 2016