Colombian Congress approves FARC peace deal
Comments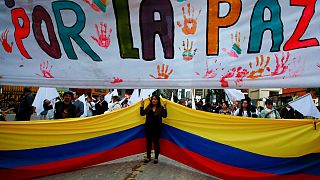 Colombian President Juan Manuel Santos has finally achieved his peace deal with FARC rebels.
The revised accord has been ratified by Congress, one day after the country's Senate approved it
It means the last hurdle has been overcome despite objections from former President and now Senator Alvaro Uribe, who said the adapted deal was still too lenient on FARC.
Colombia's Congress unanimously ratifies revised peace deal between government and FARC rebels. https://t.co/LcXxpRGQq0

— The Associated Press (@AP) December 1, 2016
It has taken four years of talks in Cuba to bring an end to Latin America's longest insurgency – more than five decades of war – which has killed 220,000 people and displaced millions.
The original version of the accord was unexpectedly rejected by voters in an October referendum. They too were unhappy over terms for the rebels.
Santos goes around Colombia's constitution for a FARC deal, writes MaryAnastasiaOG</a>: <a href="https://t.co/szFSejWSMl">https://t.co/szFSejWSMl</a></p>&mdash; WSJ Editorial Page (WSJopinion) November 29, 2016
While the government says the accord includes most of the proposals put forward by those who rejected it, the new document did not alter those two key provisions. That has angered many among Colombia's largely conservative population, who are also furious that Santos decided to ratify the deal in Congress instead of holding another plebiscite.
Now begins a six-month countdown for the 7,000 -strong FARC, which started as a rebellion fighting rural poverty, to abandon weapons and form a political party.
Thank you Fidel for your immense love for #Colombia. Let the Havana Peace Agreement be our last tribute. https://t.co/xMUVDbhXq6

—

FARC

International (@FARC_EPeace) November 26, 2016