Chorus of condemnation greets Houthi government in Yemen
Comments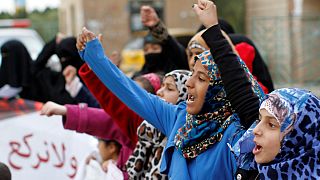 The United Nations has criticised the formation of a new government by Yemen's Shi'ite Houthi rebels and their political allies, who support former Yemeni President Ali Abdullah Saleh.
The cabinet was sworn in on Tuesday in the capital Sana'a which they control.
Later on the same day the UN's special envoy to the country, Ismail Ould Cheikh Ahmed, said the move was "an obstacle to the peace process" and did not "serve the interests of the people in these difficult times".
The new government is seen as deepening divisions in the Arab world's poorest nation.
Yemen's internationally-recognised government is based in the southern city of Aden, but in the capital the new government is welcomed by some.
"It was necessary to form the government, and we must resist as we've suffered patiently for almost two years. A government has to be formed, and Yemen is rich with its men, rich with intellectuals, rich with learned and educated people, who understand what they need to do for the benefit of the people," said Mohammed Al-Alafi, a Sana'a resident.
The Gulf Cooperation Council, whose member Saudi Arabia is leading a coalition backing the internationally-recognised Abd-Rabbu Mansour Hadi, also condemned the formation of the new government.
There have been similar statements from the Arab League and the Organisation of Islamic Cooperation (OIC).
The coalition has been continuing its military offensive against the Houthis.
An airstrike at the weekend in the western port city of Hodeida – which the Shi'ites control – killed at least 13 civilians, according to rebels and medical officials.
Women and children were among those taken to hospital after two homes were reportedly hit. A communications tower was also struck in the attack.
The coalition intervened in Yemen in March 2015 at the request of the internationally-recognised government after the rebels seized Sana'a and started advancing towards the south.