'Air France shirt rippers' given suspended prison terms
Comments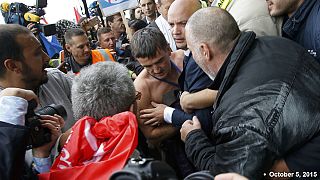 Three men have been given three-to-four-month suspended sentences after a court in Paris found them guilty of organised violence against airline executives.
The so-called Air France shirt rippers drew widespread condemnation when they
tore the clothes off the backs of managers fleeing a meeting about job cuts in October 2015.
Two others were found not guilty, but ten people were fined 500 euros each for damage to property sustained during the protest.
The incident took place when Air France bosses presented proposals to axe 2,900 jobs and cut the airline's long-haul routes by ten percent.