Refugee postcards for sale in Berlin
Comments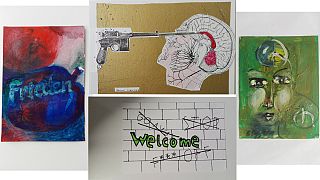 To recognise the impact that refugees have had on Germany and German society since 2014, the European Youth Press (EYP) have organised a postcard exhibition and auction.
The postcards on show, and for eventual sale, have been produced by refugees, local school children, and well-known artists such as Mirijam Verena Jeremic, Aaron Jordan, Archana Sreenivasan, Wolf Nkole Helzle.
According to Raluca Besliu of the EYP, the "postcards illustrate the diverse range of reactions that the waves of migration have provoked in people over the past two years".
The postcards will then be sold in a silent auction. The postcards will be displayed anonymously, so patrons are unaware if they're buying artwork created by a refugee child or a famous artists.
All proceeds from the auction will go the EYP.
The name of the exhibition and auction, "Zero Ninety", is a reflection of the price of sending a single postcard from Germany to Syria: 90 cents, or €0,90.
The exhibition will take place on December 8. More information can be found on the EYP website or on Facebook.
More postcards on our photo gallery: