Countdown to Italy's referendum on constitutional reform
Comments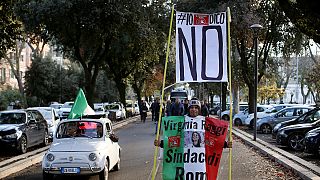 Italy will hold a referendum on constitutional reforms on Sunday (December 4) which would limit the power of the upper house and make it easier for governments to pass legislation.
...those would be the four big slaps in the face to strong powers...

Leader, Northern League
Prime Minister Matteo Renzi, who proposed the measures, says they would strengthen and stabilise the government.
Italian banks hold nearly a third of euro zone's bad loans: ECBhttps://t.co/Tiv7Rt0HU5pic.twitter.com/qTT4NJz05f

—

CNBC

International (@CNBCi) November 29, 2016
But the leader of Italy's anti-immigration Northern League Matteo Salvini is campaigning for a no vote as a way of getting rid of Renzi.
"Brexit, Trump and 'No'. That would be…. Brexit, Trump, 'No' and we can even add [Norbert] Hofer in Austria as they're having presidential elections on Sunday, those would be the four big slaps in the face to strong powers, and four very good warnings from the people," Salvini said.
Italy's foreign minister Paolo Gentiloni said the constitutional changes were important.
"Stability and reforms in my own country are crucial," said Gentiloni. "And this is the reason why the approval of our constitutional reforms through the referendum is so important."
Last Italy referendum poll reveals Renzi to be DEFEATED in referendum in next blow for EU https://t.co/31G6DPPKMm

— Voice of Europe (@V_of_Europe) November 27, 2016
Renzi had said if his reforms are rejected, he would resign.
New elections, if held, could bring power to the anti-establishment Five Star Movement.
It has said it wants to hold a vote on membership of the euro currency union.
Read more:Renzi, reform and the paradox of Italy's referendum