Renzi in Bologna to campaign for constitutional reform
Comments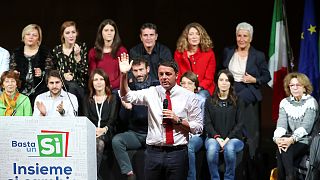 Italian Prime Minister Mateo Renzi has tried to muster support in Bologna for the country's upcoming referendum on constitutional reform.
The rally took place despite an explosion in front of a police barracks on the outskirts of the city.
It remains unclear whether the blast was linked to the issue.
"No to the reform, no to Renzi, no the reform". 30,000 people met in Rome for the #cechidiceno protest against the #RiformaCostituzionalepic.twitter.com/wmObAdOyeR

— Virginia Vitalone (@vivivitalone) 27 November 2016
In Rome thousands of anti-government protesters took to the streets to march against Renzi's proposed reforms.
Demonstrators argue that the proposals are anti-democratic and will curtail peoples' rights.