Chelsea continue fine run under Conte with derby win over Spurs
Comments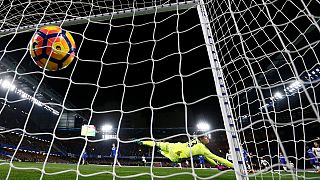 Chelsea thrilled their home fans at the Stamford Bridge over the weekend by condeming derby rivals Tottenham to a first Premier League defeat of the season.
Chelsea registered a seventh consecutive league victory with a 2-1 win against Spurs.
Christian Eriksen's stunning 11th minute strike put Spurs in front only for Pedro to level with a spectacular curling effort just seconds from half time.
The Blues sealed the three points when Victor Moses scored what turned out to be the winner six minutes after the restart.
The win placed Chelsea back at the top of the table on 31 points, while Spurs' first defeat of the league campaign left them in fifth place seven points off the leaders and still hunting a first win at Stamford bridge since February 1990.
Conte's tactical reshuffle towards a 3-4-3 set up appears finally to be working but it will be put through another stern test next Saturday when Chelsea face Man City in a top of the table clash.
It's been a frustrating few days for Spurs manager Mauricio Pochettino and his team, who were eliminated from the Champions League midweek at the hands of Monaco and on Saturday their winless streak at the Brdige was extended to 30 games.
After the game Conte said: "I am pleased, pleased because when you win this type of game, also a derby, a special derby, you must be pleased. But, from tomorrow, it's important to think (about) the next game against (Manchester) City, another very strong team."
Of his side's slip in form Spurs boss Pochettino said: "We come from Monaco, that was difficult, that was tough, to be out of the Champions League, but I think the answer (reaction) of the player(s) was clear. Right mentality, right…. good performance. I think we were better, but we lost, but I can't understand that. You can, if you want to analyse only the result, it's 2-1 for Chelsea, congratulation, but if you analyse the 94 minute(s), I think Tottenham make a lot of things positive, to deserve more (at) the end of the result, but you know football, you need to score and defend well in your goal. If not, (what will) happen (is), what has happened on the pitch."