Turkey to Buenos Aires: worldwide rallies to protest violence against women
Comments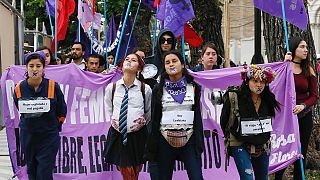 The UN is kicking off two weeks of actions to raise awareness of the large-scale cost to societies of psychological, physical and sexual violence against women and girls.
Europe
Hundreds of people took to the streets of Madrid on Friday night as part of worldwide rallies to protest violence against women.
In the last 10 years, 666 women have been killed in Spain by their couples or former husbands / boyfriends, and every day around 130 women call for help and advice to the Phone gender violence service, 016.
A man walks between red shoes displayed as part of a protest to highlight violence against women in Barcelona. (AP Photo/Manu Fernandez) pic.twitter.com/nRXNk4yiYK

— Marie-José Azzi (@MJAZZI) November 25, 2016
In Turkey, people protested the government's proposed law which critics say would legitimise child rape. It was withdrawn this week following protests, and submitted for review.
"The proposal (the child marriage bill) is unacceptable. But AKP's vision is trying to bring back the proposal on sexual assault to the parliament. Women will never let them bring this proposal back to the parliament. That proposal will stay away from the parliament no matter what," said one protester.
Latin America
In Latin America, tens of thousands of people participated in the International Day for the Elimination of Violence Against Women, with many calling for more to be done to help women leave violent situations.
Since the beginning of the year, 200 women have been killed by the partners or ex-partners in Argentina. While in Chile, recent statistics show 30% of homicides happen in the home.
North America
In the US one in five men report committing domestic violence.
Violence against women is everybody's problem. It's time to #OrangeTheWorld and end the disturbing prevalence of #VAW. pic.twitter.com/Vk6c2rZ5GK

— Jagmeet Singh (@theJagmeetSingh) November 25, 2016