Fidel Castro's death prompts mixed reactions in Europe
Comments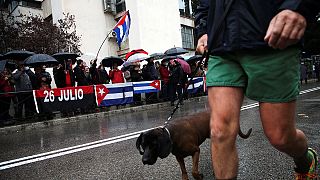 The death of Fidel Castro has prompted mixed reactions from around the world. Opponents and supporters of the Cuban revolutionary leader clashed in front of the Cuban embassy in Madrid on Saturday. According to reports, several dozen people gathered outside and traded insults, with local police later showing up to intervene.
"Now that Fidel Castro is gone, Cuba is free," said a Cuban exile. "Let's free those who have been wrongfully convicted. It's time for our country to become a democracy."
European leaders and senior political figures offered condolences and expressed their feelings over Castro's death. While some noted concerns over human rights under his regime, many recognised the influential role the Cuban revolutionary leader played in global politics over the past 60 years.
"What's so impressive about Cuba is the education and the health services," said Labour Party leader Jeremy Corbyn. "I think the legacy of Castro will be that, but will also be this enormous figure on the world stage. The one who campaigned against apartheid, and the one who brought a different language and a different set of values."
Francois Hollande, who met Fidel Castro in May, 2015 during the first ever visit by a French head of state to Cuba since the revolution also expressed his condolences.
"Fidel Castro was a towering figure of the 20th century" announced the French president. "He incarnated the Cuban revolution and always wanted to defend his country against external pressure. Although I often criticised Cuba for its human rights, I always considered the embargoes as an unacceptable unilateral decision."
Fidel Castro was "a huge figure in our lives" says jeremycorbyn</a> following the death of the former Cuban leader. <a href="https://t.co/17jTlfLODD">pic.twitter.com/17jTlfLODD</a></p>&mdash; Channel 4 News (Channel4News) November 26, 2016