Barack Obama and Donald Trump offer contrasting responses to the death of Fidel Castro
Comments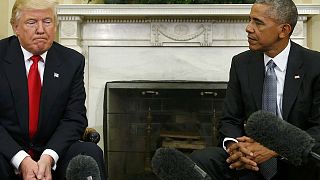 The death of Fidel Castro brought a wave of reactions from politicians in the United States, including President Barack Obama, who offered condolences to the Castro family and extended "a hand of friendship" to the Cuban people.
The 55-year-old, who will leave the White House in January, announced that history would judge Castro's impact on Cuba and around the world and added that during his presidency, he had worked to leave the past behind.
Obama's elected successor, Donald Trump took to Twitter initially to react in only four words before issuing a longer statement condemning the "brutal dictator".
Trump, who had threatened late in his campaign to reverse President Barack Obama's moves to open relations with Cuba over concerns about religious freedom, was immediately backed by Marco Rubio.
The Florida senator said that if the US President sent an American representative to Castro's funeral, he would be honoring a legacy of anti-Americanism, murder, dictatorship, imprisonment and exile.
Fidel Castro is dead!

— Donald J. Trump (@realDonaldTrump) November 26, 2016