Ukraine: exiled ex-President Yanukovych's testimony cut short in Maidan murder trial
Comments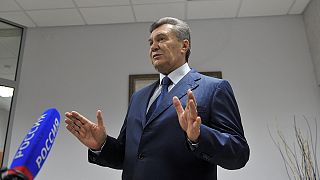 Ousted Ukrainian President Viktor Yanukovych has appeared in court via video link to give evidence in the trial of five ex-riot policemen accused of shooting dead protesters in 2014.
But the trial was adjourned almost as soon as it began after nationalists from the Right Sector party blocked the defendants' route from prison, preventing them from appearing in court.
Speaking from exile in Rostov, southern Russia, Yanukovych said:
"I am outraged by what's happened. There is only one question – 'Who benefits from this?'. Today we've learned that the Right Sector radicals are again following Maidan principles and acting outside Ukrainian law. And they are doing this with the approval of the authorities."
Yanukovych himself is under investigation on suspicion of mass murder linked to the deaths of over 100 demonstrators in Kyiv's Maidan Square in 2014.
Forty-eight were gunned down by police snipers alleged to have received direct orders from the former president. Yanukovych denies any involvement.