French heir discovers 100kg of gold hidden in house
Comments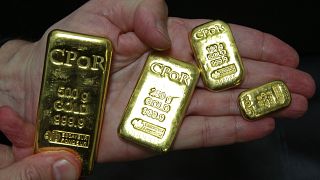 A man who inherited a house from a relative in Normandy, France, found even more reasons to be cheerful when he discovered 100kg of gold hidden under furniture.
The treasure was estimated to be worth a cool 3.5 million euros.
The unknown heir went to visit his newly-acquired inheritance to value the furniture.
He and an auctioneer were astounded to find the haul hidden under linen, in shoes, in iron boxes hidden under tables, even under the floorboards.
Auctioneer Nicolas Fierfort told AFP: "There were 5,000 gold pieces, two bars of 12kg and 37 ingots of 1kg."
The owner first stumbled on a tin box of coins that was screwed to the underside of a table. More was found in a box meant for a bottle of whisky.
Certificates were found to verify that the gold was legally bought in the 1950s and 1960s.
The booty has since been auctioned off in France and overseas.
But according to local newspaper, La Dépêche, the owner may be liable to a whopping 45 percent rate of inheritance tax.