US rapper Kanye West cancels tour early amid controversy
Comments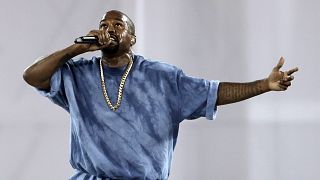 US rap superstar Kanye West cut short his Saint Pablo tour and was reportedly hospitalised in UCLA Medical Center on Monday. The incident followed several controversial and condensed concert appearances, opening up floods of criticism, concerned comments and speculation about the celebrity's mental health.
At a huge concert in San Jose, California, on November 17th, fans simultaneously jeered and cheered when the rapper said: "If I would have voted, I would have voted for Trump". West also praised the President elect's "approach" and shouted "build the wall" in reference to Trump's controversial campaign promise to wall off Mexico.
This is not the first time West has wandered into politics. Last year the rapper and producer confirmed that he is considering running for President himself in 2020.
When asked on BBC radio about his political aspirations West revealed: "When I've talked about the idea of being President, I'm not saying I have any political views, I don't have views on politics, I just have a view on humanity. On people. On the truth."
Two days after the disastrous San Jose gig, West took to the stage again in Sacremento. Over an hour late, and three songs in, he began a furious and disjointed rant about the music industry, politics and fellow celebrities Beyoncé and Jay Z asking the latter to "talk to me like a man".
Concert promoters Live Nation confirmed that the 21 remaining concerts as part of West's tour were cancelled and that ticket holders would be refunded. Billboard magazine estimated that the tour cancellation would mean $27 million in ticket refunds and untold amounts in other tour expenses.
The tour cancellation follows a number of controversies in which West took aim at Google, Hillary Clinton and Facebook chief Mark Zukerberg, among others.
"I would've voted for Trump" – kanyewest</a> <a href="https://t.co/XtyUteCgUZ">pic.twitter.com/XtyUteCgUZ</a></p>&mdash; albertoreyes (albertoreyes) 18 November 2016
To read a transcript of West's profanity-laden rant, click here.
The show was over after 30 minutes.
In case anyone wants to see what happened in Sacramento tonight… kanyewest</a> <a href="https://twitter.com/hashtag/SaintPabloTour?src=hash">#SaintPabloTour</a> <a href="https://twitter.com/hashtag/KanyeWest?src=hash">#KanyeWest</a> <a href="https://twitter.com/hashtag/Golden1Center?src=hash">#Golden1Center</a> <a href="https://twitter.com/hashtag/IMissTheOldKanye?src=hash">#IMissTheOldKanye</a> <a href="https://t.co/1OpVm4xdRW">pic.twitter.com/1OpVm4xdRW</a></p>&mdash; Joshua Hoover (joshua_hoover) 20 November 2016
Kanye's Sacramento show started 90 minutes late, then lasted three songs and a rant before he ran off stage. Crowd chants "F—- you, Kanye!"

— Alexei Koseff (@akoseff) 20 November 2016
The next day he cancelled a concert in Inglewood at the last minute, which was meant to make up for a previous show he was forced to cut short after losing his voice.
I know a lot of y'all are laughing at Kanye but I think he has real mental health issues to deal with. He's human and might need help.

— Matthew Santoro (@MatthewSantoro) November 21, 2016
A source close to the rapper told People magazine, however, West is exhausted from simultaneously working on his fashion line, promoting his newest album The Life of Pablo, as well as this tour.
"He's just exhausted. He's been working around the clock on fashion design, both on his own line and the Adidas line," reports People. "He's a notorious workaholic, so balancing both that work – which is extremely important to him – and the rigors of the tour every night, it really wore him out."
West launched his Saint Pablo Tour in August. It was due to end on December 31 in Brooklyn, New York.