US bus crash kills six school children and injures 23 others
Comments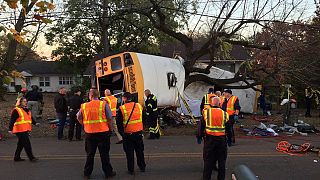 At least six children have been killed and 23 others injured in a bus crash in Chattanooga in the US state of Tennessee.
On board were 35 youngsters aged between 5 and 10 as well as the driver. They were on their way home from Woodmore elementary school.
The bus is said to have rolled before hitting a tree.
It's not known what caused the accident
but police have said speed may have been a factor.
Chattanooga Fire Department said the last patient as extricated from the Chattanooga school bus: https://t.co/NLhagpuiuv… #WATE

— Laura Halm (@WATELauraHalm) November 21, 2016