Heavy snowfall temporarily clears 'life-threatening' air pollution in Tehran
Comments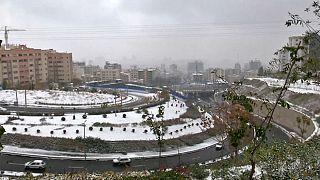 For some, the first snowfall of the season is a cause for frustration.
But in Tehran, it could actually be life saving.
The snow has temporarily cleared the air following weeks of heavy smog and pollution in the Iranian capital. More than 400 people are reported to have died as a direct result of the recent poor conditions.
After being forced to stay inside, children are now out in the streets playing in the snow. Local woman Sholoufeh Samadi was also out on the streets.
"This morning I was feeling great, she said. "It is very pleasant and sweet weather especially after a period of air pollution. All I was thinking about this morning was finishing up work quickly and then coming out to play in the snow."
Officials say a lack of rainfall, the poor quality of fuel and a number of factories on the outskirts of the city have all contributed to the pollution, which was classified 'red', meaning 'unhealthy' for everyone.
Schools were closed and children, pregnant women and the elderly were encouraged to remain indoors.
In an attempt to stem the smog, authorities fined the drivers of vehicles deemed to spew out too much smoke.