'Children among dead' in Benghazi bomb blast
Comments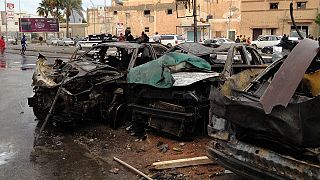 Three children are believed to be among at least seven people killed in a car bomb attack in Benghazi.
That number is expected to rise as eyewitnesses say some of the victims were unrecognisable. Around 20 people were wounded in the explosion near the Libyan city's Jala hospital.
Investigators are not sure whether the car was remotely detonated or it was a suicide attack.
It's the third time in two years that the hospital – the main one in eastern Libya – has been targeted.
Shortly after the blast, people took to the streets to protest against violent attacks in the city.
Benghazi and further west in Sirte are two among a number of cities to see intense fighting between Libyan forces and Islamist-led opponents in the past two years.
The ISIL militant group took over Sirte more than a year ago, benefitting from power struggles between rival forces who had previously fought together to oust dictator Muammar Gaddafi in 2011.