India investigates Uttar Pradesh train crash as death toll rises
Comments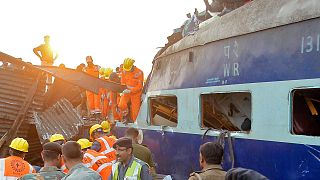 Sunday's train crash in northern India is known to have left at least around 120 people dead and more than 150 injured.
The numbers were expected to rise as rescuers looked for survivors amid the wreckage and police said people were still missing.
Fourteen carriages came off the rails in Uttah Pradesh, of which three were completely crushed.
"There are many people here. One woman is alive, one child and an old man, the rest are being looked for," said one rescue worker.
The cause of the derailment isn't known. Authorities said they were checking the condition of the tracks but it was too early to say.
The long-distance train from Patna to Indore crashed in the early hours of the morning, at a time when many of an estimated 500 passengers were asleep.
"Suddenly there was a loud noise. My head hit something inside. I saw that many coaches had overturned and people were crying and shouting. I got up and ran outside," said one woman who survived.
This may turn out to be India's worst rail disaster this century.
The country has the world's fourth largest rail network but much of it is dilapidated and the safety record is poor.
The government has pledged to modernise the system but little progress has been made.