Restoring faith: Crucifix replaced above newly-liberated Bashiqa church in Iraq
Comments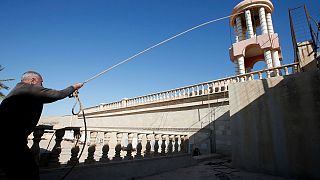 Iraqi Kurdish fighters joined by locals have restored the crucifix above a church in Bashiqa.
It is an act steeped in symbolism for those who had lived under ISIL occupation for two years and the persecution and torture it entailed.
The original cross had been destroyed by the jihadists who forced Christians to pay a tax, convert to Islam, or die by the sword when they took control of the town in 2014.
The town was liberated as part of the offensive to recapture Mosul, which lies some 20 km southwest.
A Peshmerga commander warned against residents from returning too soon, as they were still seeking to secure the town from explosives left in people's homes by ISIL militants.