Rescue teams search for missing workers after copper mine collapse in Turkey
Comments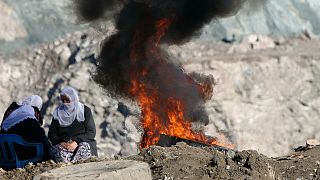 Rescue teams are attempting to free 12 workers trapped in a copper mine in southeast Turkey.
At least four people were killed when a landslide hit the mine near the town of Sirvan in Siirt province.
The local governor has launched an investigation, but the private owner of the mine believes heavy rains triggered the landslide which caused the collapse.
Families of the miners watched as more than 90 rescuers worked to free their loved ones.
The country's recent construction boom has seen workplace accidents rise, as safety standards fail to keep pace. The worst mining accident occurred in May 2014, when an explosion at a mine in Soma left 301 people dead.