WHO condemns Syria hospital attacks
Comments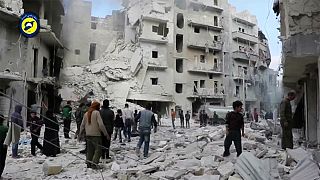 The World Health Organisation is condemning a wave of attacks on hospitals in Syria.
Air strikes reportedly pounded neighbourhoods around a children's hospital and a blood bank in rebel-held eastern Aleppo on Wednesday.
It is part of a renewed wave of bombing that's killed more than 30 people, according to various sources.
The WHO says there have been heavy attacks on five hospitals in Aleppo and Idlib since Sunday, severely affecting services for people in northern Syria.
"It is shocking that healthcare facilities continue to be attacked in Syria," said Tarik Jasarevic, from the World Health Organisation.
"Only this year there were 126 attacks on health facilities and health workers recorded by the World Health Organisation and its partners."
The strikes on Aleppo this week have appeared to mark the end of a pause inside the city, declared by Syrian-government ally Russia last month.
But Moscow has denied reports that its jets have hit Aleppo in the renewed wave of bombardment.