Uganda: Man nabbed in fake $120m arms deal
Comments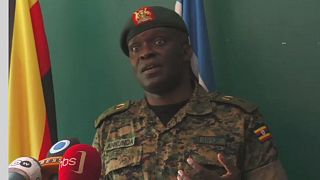 Uganda's police said on Tuesday they had nabbed a con man suspected of swindling a Polish weapons manufacturer into signing a bogus $120m arms deal, News24 reports.
BMP Poland inked the multi-million dollar deal with the man, named as Sam Ssimbwa, who had presented himself to the company as an agent for Uganda's defence ministry, a police spokesperson said.
UPDF spokesperson Paddy Ankunda said: "The allegations by the Polish company that they lost over half a million euros, that they claim was used and taken by these fraudsters in preparation of paperwork. But the entire deal was well over ten million euros. And these will be matters to be investigated and we wouldn't really want to speculate on it at this stage."
Ssimbwa and his associates, who have not been detained, designed an elaborate fraud including the creation of a fake public call for tender.
Ssimbwa was then contracted by BMP as a lawyer to secure the contract to supply Kampala with equipment including 375 tanks, 46 reconnaissance Ferret and Eland armoured cars and various artillery, news24 further reports.