Turkey detains mayor of Van and takes over three municipalities in southeast
Comments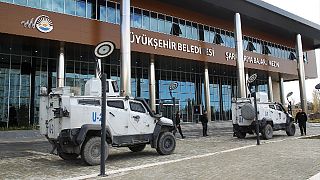 Authorities in Turkey have detained the mayor of Van. Amateur video showed plainclothes police escorting mayor Bekir Kaya from council offices in the southeastern city earlier.
A co-leader of the pro-Kurdish DBP party was also reportedly detained, as the central government seized control of three municipalities in the region, including Van.
Later, police fired water cannon and tear gas to disperse around 100 people who had gathered outside Van's council house to protest against the Mayor Kaya's detention.
Turkey is currently fighting an insurgency by Kurdish PKK militants in its south east. The country has also seen tens of thousands of arrests, as part of a wider security crackdown following July's failed coup.