Trump on track to name senior team soon
Comments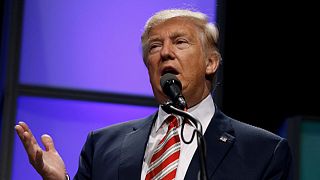 President-elect Donald Trump is expected to finish choosing his senior team within the next few days.
But referring to potential members of his administration as "finalists" has drawn accusations that he's treating the running of the country as a game show.
Very organized process taking place as I decide on Cabinet and many other positions. I am the only one who knows who the finalists are!

— Donald J. Trump (@realDonaldTrump) November 16, 2016
Before running for president, the billionaire businessman hosted the US version of reality TV show 'The Apprentice', in which he whittled down potential candidates for a job until only three finalists – and then one winner – remained.
Meanwhile reports of turmoil in his transition team and other media stories have been denied by himself and senior advisor and campaign manager, Kellyanne Conway:
"He's up there forming his federal government, meeting with advisors, meeting with possible candidates for these different positions. It's actually going very well. I don't understand those reports. Just like I don't understand being asked by the press pool today if Mr. Trump is here in New York or in DC. He's here. We'll lessen the conspiracy theories and we'll just have open communication and he's here doing the job as president-elect."
I am not trying to get "top level security clearance" for my children. This was a typically false news story.

— Donald J. Trump (@realDonaldTrump) November 16, 2016
So far Trump has named Reince Priebus as White House chief of staff and Steve Bannon as his chief strategist. Those in the running for other key posts include Lieutenant or deputy Governor of South Carolina Henry McMaster for the job of attorney general. Governor of South Carolina Nikki Haley has emerged as a potential candidate for the US's chief diplomat position that of secretary of state
When J.P Morgan Chase and Co chief executive Jamie Dimon name was thrown into the ring for treasury secretary the banks stock price dropped, but he may have ruled himself out.
With Trump insisting things are going to plan, he has let it be known via social media that since his victory on November 8 he has spoken to nearly 30 world leaders.
The failing nytimes</a> story is so totally wrong on transition. It is going so smoothly. Also, I have spoken to many foreign leaders.</p>&mdash; Donald J. Trump (realDonaldTrump) November 16, 2016
Trump is also said to be meeting Japan's Prime Minister Shinzo Abe on Thursday ( Nov. 17). Abe is on the way to the Asia-Pacific Economic Cooperation summit in Peru. The meeting is set to take place amid concerns about the future relationship between the two nations.
During the campaign, Trump stunned Japan and South Korea, two of American's strongest allies, with the suggestion the US military withdraw from their shores.